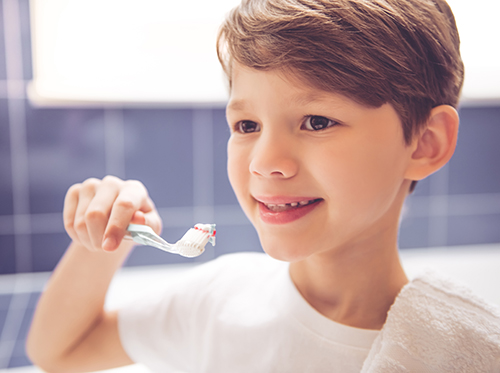 Here is some surprising yet worthwhile advice you might be hearing for the first time: Brushing can be incredibly bad for your child's teeth if done right after eating certain foods.
Enamel is an extremely hard mineral on the exterior of each tooth. It's actually the hardest substance in the human body: It's even stronger than bones! Its only weakness is that acids in the food we eat can easily destroy enamel.
Healthy teeth thrive in an environment that has the proper pH balance. That ensures the mouth doesn't start the process of demineralization—the process when alkaline turns into acid, which attacks and softens the enamel on the surface of your child's teeth. Pores and fissures form, and that's when the harmful bacteria go to work.
A mouth's pH level fluctuates depending on what is eaten throughout the day. Examples of the most common highly acidic foods include citrus fruits, soda, and sugary foods. Highly acidic foods tip the balance of pH in the mouth from a healthy alkaline to a dangerous acid.
Can brushing your child's teeth immediately after a meal lead to even more damage? The answer is yes!
Eating highly acidic foods causes your child's teeth to be more susceptible. If your child brushes when the teeth have been weakened by acids, even more destruction can happen to the enamel. Your child's toothbrush bristles will actually wear away some of the enamel. So it's healthier for your child to wait at least an hour after eating or snacking to brush.
Good preventive measures to take instead of brushing after your child eats include:
Rinsing or drinking water
Chewing sugarless gum
Consuming dairy or non-acidic foods to conclude a meal
These practices help produce saliva, which in turn restores a healthy pH level in your child's mouth and coats the teeth with minerals they need.
Once your child's mouth is restored to a healthy pH level, he or she may brush normally. Keep in mind that acidic foods can weaken the enamel on the teeth and take the right measures to prevent spiking pH levels.
Still have questions? Call our Frederick office and schedule an appointment for your child with Dr. T.P. Sivakumar, Dr. Savithri Sivakumar, Dr. Emily Little, Dr. Kevin Banks, Dr. Sruthi Paimagham, Dr. Sagar Patel, Dr. Nikki Fischbach and Dr. Wendy Daulat.